S3 STUDENT OPTIONS
CURRICULUM PATHWAYS AT LEVENMOUTH
S3 Curriculum Pathway for Session 2022/23
Pupils in S3 are progressing through the final stages of Broad General Education (S1-3) and will embark on the Senior Phase next year. The transition between the Broad General Education (BGE) at the end of S3 and Senior Phase (S4, S5 & S6) is a highly significant milestone in any child's educational journey. The S3 experience is the year when learning paves the way to qualifications in the Senior Phase. It is the Foundation to the Senior Phase.
In S4, pupils will continue to study seven of the courses studied in S3 to the Scottish National Qualifications. These, along with a range of employability skills and qualities, will be necessary for securing a positive future destination of college, university, training and/or work. In addition to the wide range of curriculum pathways offered at Levenmouth Academy, our college partnership with Fife College can provide additional opportunities for our young people. The Curriculum Offer from Fife College will be shared in due course.
This year your child is studying eight subjects including English and Mathematics, which are compulsory in S3 and S4. In addition, they also have four periods dedicated to PE/PSE and Personal Reflection. In order to start planning the timetable for next session, we must gather information on your child's priority subjects for S4. It is now time for pupils to reflect on chosen courses this year and prioritise the subjects that they would like to carry on studying in S4. Pupils should reflect on their six additional subjects carefully as only seven subjects in total will be continued to SQA qualification in S4.
Pupils must inform us of the rank order of their subject preferences by completing an Online Options form at https://studentoptions.co/Levenmouth-S3/.
The options online system will open on Monday 6 December and will close on Sunday 12 December.
When the T.O.O.L.S (Timetabler Options On-Line System) opens up, you will enter your username and password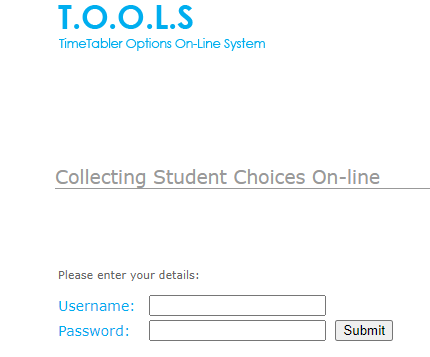 They should then rank their subjects in order of preference for study in S4 with '1' being the most important subject to study in S4 and '6' the least important subject.
English and Maths are both compulsory so this will focus only on the additional six subjects they study.
Note: School of Football/School of Rugby
NPA Level 5 Sport & Fitness is the follow-on course if your child has been involved in School of Football or School of Rugby in S3. Your child should rank football or rugby alongside their other subjects.
Please note that although we try as hard as possible to meet the preferences of our pupils, we cannot guarantee that all pupils will be allocated their first five preferences.
Curriculum Pathway Documents
There are no documents to display at present.